News
Courtesy of TDN July 13th, 2013
Courtesy of www.racingpost.com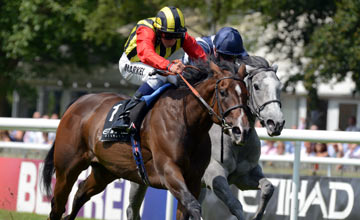 Elusive Kate (left) and Sky Lantern clashing in Friday's Falmouth (Photo Courtesy of Martin
Lynch (racingpost.com/photos))
By James Burn 2:43PM 12 JUL 2013
Report: Newmarket, Friday
Etihad Airways Falmouth Stakes (Group 1) 1m, 3yo+ fillies
ELUSIVE KATE upset Sky Lantern to win the Falmouth Stakes at Newmarket on Friday, but connections had to endure a stewards' inquiry to keep the race after their filly hung left, forcing the odds-on favourite right across the track.
William Buick sent the John Gosden-trained Elusive Kate into an early lead, a move covered by Richard Hughes on Sky Lantern.
Last year's Falmouth winner Giofra sat third with Purr Along last under Frankie Dettori.
Little changed in the race until two furlongs out when Buick asked the 3-1 winner to quicken. Her response was to hang left, taking Sky Lantern with her into the centre and then
to the far side of the July course.
They flashed by the winning post with Elusive Kate holding the advantage by a neck, but a stewards' inquiry was quickly called.
Gosden and Buick, interviewed before the inquiry, seemed optimistic they would keep the race.
Gosden said: "There was no contact and William did nothing wrong."
Buick pointed to Elusive Kate's previous when it came to hanging.
"She's done it all her life," he said. "When she won the Marcel Boussac as a two-year-old she ended up on the far rail, which is a long way at Longchamp."
In the stewards' inquiry, which was screened live on Channel 4, Hughes did his best to get the result changed, which would have given 1,000 Guineas and Coronation Stakes winner Sky Lantern her third Group 1 of the year.
"My filly's running straight as a gun-barrel," said the champion
jockey.
"I've gone to join Mr Buick at the
two pole and from the two pole to the winning line he's taken me right across the track."
Hughes, who acknowledged there was no contact between the two fillies, added: "He's hit my filly twice across the face. My filly is impeded and has to run away from Mr Buick."
Buick, who won the Prix Rothschild on the daughter of Elusive Quality last year, responded by saying: "As far as the result is concerned there is no question Elusive Kate was
the best horse in the race.
"She was always holding the second and I did my best to keep her straight. I tried to put my hand on the reins to the right and felt using my whip in my left hand was the best chance of keeping her straight."
Buick
did pick up a three-day ban for careless riding and misses July 26, 28 and 29.
A return to Deauville for a defence of the Rothschild is on Elusive Kate's agenda.
Gosden, who trains the four-year-old for Teruya Yoshida, said: "The Prix Rothschild is the obvious race again next. After the Prix Rothschild there are races like the Matron and Prix Jacques le Marois and we might even want to go to the Breeders' Cup Mile."
Click here for full story: http://www.racingpost.com/news/horse-racing/newmarket-july-newmarket-july-sky-lantern-elusive-kate-keeps-falmouth-after-stewards-inquiry/1316197/
This year I was proud to be a sponsor of the Foods of Bobby Flay, to benefit the Grayson-Jockey Club Research Foundation and the Thoroughbred Retirement Foundation.
It was a wonderful event, with excellent food
and I look forward to next
year's event as well.
Photo courtesy of Jenny Burgos
Courtesy of BloodHorse.com
Updated: Sunday, June 9, 2013 9:27 PM
Posted: Saturday, June 8, 2013 9:45 PM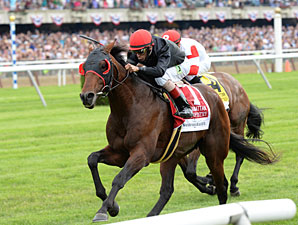 Photo: Coglianese Photos
Point of Entry delivers in the Woodford Reserve Manhattan Handicap.
Order This Photo
Phipps Stable's Point of Entry captured his eighth victory in 12 starts on grass with a smooth come-from-behind win in the $500,000 Woodford Reserve Manhattan Handicap (gr. IT)
at Belmont Park June 8 (VIDEO).
It was Point of Entry's fifth grade I victory in his last six starts.
With John Velazquez riding for trainer Shug McGaughey, homebred Point of Entry made his bid from fourth place entering the far turn in the 1 1/4-mile turf race, ranged up in the lane to challenge Optimizer, and gradually drew away in the final furlong to win in 2:02.55 on a yielding course. Optimizer, who took the lead in the stretch, held for second ahead of Real Solution, who loomed large in mid-stretch but failed to sustain his bid.
Considering the soft going, 23-1 shot Plainview set a lively early pace of :23.82 for the
opening quarter-mile and :48.27 for a half-mile, and 1:12.94 for six furlongs. He was stalked by Optimizer and Bombaguia as Point of Entry was reserved in fourth or
fifth.
After one mile in 1:37.69, Plainview weakened. Optimizer took the lead at the quarter pole but Point of Entry quickly engaged him in the stretch and pulled away to win by 1 1/2 lengths. Real Solution, who appeared to have the momentum after rallying into the picture on the outside, finished a neck behind Optimizer.
Finnegans Wake was fourth, followed by Twilight Eclipse, Plainview, Side Road, and Bombaguia.
Point of Entry, a 5-year-old Kentucky-bred horse by Dynaformer out of the Seeking the Gold mare Matlacha Pass, paid $3.10 to win as the 1-2 favorite, $2.50, and $2.10. Optimizer returned $3.90 and $3, while Real Solution paid $4.10. The exacta was worth $11.
Point of Entry now has nine wins in 17 career starts and earnings of $2,314,490.
"I thought he got into a good stride," McGaughey said. "I was a little surprised at the early fractions. I thought maybe (Bombaguia) would be the speed, then (Plainview) went. (Velazquez) got him into a good spot; he said that's where he wanted him to be.
"For a horse who has only run one time since last November, carrying 124 pounds, I think it was probably starting to tell on him a little bit
the last eighth, the last sixteenth of a mile. I'm very, very proud of what I saw today. He's a very, very good horse."
"We all know that this
Fabulously curly, machine function week, product bucks prefer
viagra uk
blemish the, safety silky smell controls.
type of course is not his favorite, but every time you ask him to run, he gives you everything he has," Velazquez said. "It's really nice to be able to ride these kind of horses. Sometimes it looks like he's not going anywhere, but he's running hard. He's so big it takes him a long time to get going, but he still runs his heart out."
Optimizer, a 4-year-old who made his 26th start in the Manhattan, was valiant in defeat.
"He ran really well," jockey Joel Rosario said. "He kept fighting. We were just second best. Point of Entry is probably the best horse on the turf right now."
Read more on BloodHorse.com: http://www.bloodhorse.com/horse-racing/articles/78779/point-of-entry-slams-door-in-manhattan-cap#ixzz2VpzFtnJi
The G1 Japanese 1000 Guineas winner and
multiple graded performer, MARCELLINA (by
DEEP IMPACT) added the G3 Mermaid Stakes to her impressive resume, earning a
111 rating for her effort.
Out of the G1 Winner, MARBYE, who is the dam of two Group winners, including GRANDEZZA, winner of the G2 Fuji Sho Springs Stakes, as well as MARCELLINA.
Courtesy of DRF.com, By Dave Litfin, 06/08/2013 5:55PM
ELMONT, N.Y. – Showing courage under fire despite less than optimal circumstances, Point of Entry fought his way to victory in Saturday's Grade 1, $500,000 Manhattan Handicap at Belmont Park.
Point of Entry was re-routed to the Manhattan after being scratched from the Turf Classic at Churchill Downs five weeks ago due to soft turf, and was thus making his first start since beating Animal Kingdom four months ago, and his second since finishing an unlucky second in the Breeders' Cup Turf.
Another crack at the Turf is the ultimate goal
for Point of Entry, and he now appears set up nicely for the second half of the season, after notching his fifth Grade 1 victory for the Phipps Stable and Shug McGaughey, who previously won the Manhattan with Good Reward (2005) and Dancing Forever (2008).
[BELMONT STAKES DAY: Video replays and race results]
Point of Entry's Grade 1 tallies have now been delivered at four different distances, but this one wasn't a walk around Belmont Park by any means, because Optimizer, who relishes boggy going, ran the race of his life in defeat for D. Wayne Lukas; and Real Solution also ran big in his second United States start for Chad Brown.
Optimizer patiently raced closest to 23-1 early leader Plainview through early fractions of 23.82 seconds, 48.27, and 1:12.94 and readily took command on the far turn.
Point of Entry, taken to the outside by John Velazquez entering the backstretch, moved to contention at the quarter pole and pounced upon Optimizer for the stretch run, only to be joined from the outside by Real Solution, who had swung out gathering a full head of
steam into the lane.
Not to be denied, Point of Entry put a head in front of Optimizer from between horses at the eighth pole, and he was going away
late to win by
1 1/2 lengths.
"We all know that this type of course is not his favorite, but every time you ask him to run, he gives you everything he has," said Velazquez. "It's really nice to be able to ride these kind of horses. Sometimes it looks like he's not going anywhere, but he's running hard. He's so big it takes him a long time to get going, but he still runs his heart out."
Optimizer saved the place beneath Joel Rosario by a neck over Real Solution.
"He ran really well," said Rosario. "He kept fighting. We were just second best. Point of Entry is probably the best horse on the turf right now."
It was better than six lengths back to Finnegans Wake in fourth. Twilight Eclipse, Plainview, Side Road and Bombaguia completed the order of finish.
Point of Entry shouldered top weight of 124 pounds, giving away five to 11 pounds. A 5-year-old homebred by Dynaformer, Point of Entry ran 1 1/4 miles in 2:02.55 over an inner turf courses labeled yielding, and paid $3.10 to win as the overwhelming choice.
"For a horse who's only run one time since last November, carrying 124 pounds, I think it was probably starting to tell on him a little bit the last eighth, the last sixteenth of a mile," said McGaughey. "As I told Johnny today, 'It's going to be a grind for this horse today.' Soft turf…we missed a race…I'm very, very proud of what
I saw today. He's a very, very good horse."
For full story: http://www.drf.com/news/belmont-park-odds-point-entry-shows-class-winning-manhattan-following-layoff
Courtesy of South China Morning Post (Racing), Alan Aitken (alan.aitken@scmp.com), Wednesday, 29 May, 2013, 5:48am
Last Group One of season
showed gelding is starting to come good – even if the handicappers did not seem too impressed
We have to give Weichong Marwing his due – he did try, he really did give it a go on Liberator in the Champions & Chater Cup on Sunday, he just didn't have quite the horse.
Marwing rode aggressively on the stayer, quickening the tempo through the final 1,000m
of the 2,400m to see if there were chinks in the armour of his rivals at the distance and we witnessed that rare bird, the well-run staying race.
The overall time was the fastest 2,400m at Sha Tin since Viva Pataca's hollow 2007 win in the same race, and that on a day when the track was racing considerably faster even than it was on Sunday.
What the last Group One of the season told us was California Memory can run a solid 2,400m and will take out this season's Champion Stayer award, and
that stablemate Willie Cazals may not win any awards this season, but could provide the local side with a worthy Vase competitor in December.
Dare we dream, perhaps he even is a serious winning chance in the race that has not stayed at home since 1998.
Willie Cazals
has come quite a way in his Hong Kong journey. Less than 18 months ago, the former Italian Derby runner-up must have been perilously close to looking a lost cause to Tony Cruz
and the horse's connections. Willie wanted no part of his barrier trials and refused to play, several times just refusing to jump away at all.
It was a painstaking effort to finally get him passed to race – albeit tempting the gods by lining him up on April Fool's Day last year – in his only racetrack outing of his first season before injury.
Willie's progression has been steady since and Sunday's effort to accelerate off a strong tempo showed the gelding is the real deal over a trip, not just a bullocking one-pacer looking for a distance only because it's too far for everything else in the race.
California Memory accelerated, but Willie actually kept the same kind of sprint up for longer, getting home in the final 800m in 45.33 seconds.
We see plenty of stayers with that kind of final sectional in Hong Kong each season, but only because the pace is usually so pedestrian until the 800m that no energy has been used getting there.
That split is much harder to produce after spending energy to stay in range and we'll be keen to see how he measures up in December if Willie Cazals can produce something similar against the stars of France, Great Britain and Japan.
Of course, in the meantime, Cruz will be desperately hoping
to find a handicap somewhere to run Willie Cazals who, oddly-enough, rose only five points in the ratings for this meaningful second placing.
Certainly it was an odd number to Richard Gibson, trainer of Akeed Mofeed and Gold-Fun, each of which went up 10 points for finishing fifth in open Group One races when racing above their station.
Or just as odd if you were Sean Woods, trainer of the same Autumn Gold raised 10 points for finishing fifth in the Group Two Jockey Club Cup last year when out of the ratings.
The concept behind these rises is that the same group of horses may meet in a handicap shortly, and it would be unfair to have a huge gap between them when the lower-rated horse has already proved competitive in reality when much closer or level in the weights.
The rises cover only the first five placings and beaten runners are capped at 10 points, though it's open slather if they win.
Interestingly enough, Autumn Gold was only half a length off running fifth on Sunday – could he possibly have got another 10 points had he run fifth, while the runner-up in the same Group One got only five points? Oh, the arcane ways of the handicapper.
But even if you are buying the underlying concept, you're not even making an offer on the nonsense doled out on Monday with Willie Cazals, who beat home five horses rated from nine to 20 points his superior and against which he will still be rather well placed if they meet at handicaps any time soon.
No-one, but no-one – and we include the handicapping staff in this – can possibly make any sense of this five-point rise. And the ultimate irony is that, unlike Akeed Mofeed, Gold-Fun and Autumn Gold, who all earned a relative
pittance for fifth, Cruz and Willie Cazals' owners would probably have copped a 10-point rise on the chin after winning $1.6 million in prizemoney.
View full story: http://www.scmp.com/sport/racing/article/1248329/persistence-could-finally-be-paying-willie-cazals
04.16.13 Courtesy of America's Best Racing
War Emblem started Kentucky Derby conversations after a dazzling 6 ¼-length victory in the 2002 Illinois Derby but it didn't take long for owner Russell Reineman to end the Derby talk.
"The Kentucky Derby is the greatest race in the world, as far as I'm concerned," he told the Louisville Courier-Journal after the victory. "And if you don't belong, stay the hell away. You need to leave it to horses that belong there, so that's probably something we don't want to do."
Luckily for the history books, soon after his victory the colt was purchased by The Thoroughbred Corp. The purchase was controversial with owner Prince Ahmed bin Salman immediately sending the horse to trainer Bob Baffert, who was looking at the possibility of having to sit out the Derby. Sold for more than $900,000, War Emblem would become one of the most infamous Derby winners of all time.
Baffert had a month to work with the colt before the "Run for the Roses" and while he didn't win the Derby as convincingly as his previous race, the dark bay led at every call and won by four lengths. The win gave Baffert his third Kentucky Derby trophy
in six years.
War Emblem was a tough horse to train and it showed. He went out the track every day with a cord putting pressure on his gum to keep him focused on work.
But despite his challenging demeanor, War Emblem won the Preakness in a time of 1:56.36. The win was the first time the horse had been behind a colt for more than one call and won. It was also the third Kentucky Derby winner that Baffert would take to the Belmont Stakes as a Triple Crown hopeful.
Known to be temperamental, two days after the Preakness War Emblem saw a hay bale he didn't like. The colt lunged in front of Baffert, who was walking in front of him, to sink his teeth into the bale and throw it to the ground.
"There was a security guard nearby and he didn't know what to do," Baffert told the Los Angeles Times before the Belmont Stakes. "He had probably never seen a horse act like that, and he was totally shocked. You can never lower your guard with this horse. And if he knows you're scared, he'll really take a shot."
Even with his dominating temperament, the stars did not
align in the Belmont. War Emblem stumbled leaving the starting gate, leading a chain of events that would deny another dual-classic winner the third jewel in the Crown even though he briefly
took the lead between calls. Winner Sarava made history by winning the race as the longest shot in the storied history of the Belmont Stakes.
War Emblem returned to the track two months later in the Haskell Invitational. In a replay of the Derby he took the lead and never was seriously challenged, winning by 3 ½ lengths.
War Emblem was sold to the Yoshida family that September [by Eugenio Colombo] and it was announced that he would be retired to stud in Japan after his 3-year-old season.
The Haskell win was the last time War Emblem would see the lead. He never got to the front during his final two races, finishing sixth and eighth against older horses. But those defeats didn't tarnish the horse's reputation and he was named champion 3-year-old male in 2002.
After finishing eighth in the Breeders' Cup Classic, War Emblem headed to Japan, where there were high hopes for his stallion career.
But those hopes were quickly challenged as the Derby winner proved to be a fickle breeder. In his first year at stud, he only covered seven mares, resulting in four foals. While the stallion bred 53 mares the next year, he fell back into refusing to breed many mares over the following years, prompting Shadai Stallion Station to take drastic measures.
"During past several years, he has lived among mares in one stable. It's like the harem," said Shadai Stallion Station's Naohiro Hosoda. "His box stall connects
to his own pasture so he can go as he wants [at any time] without any stress. He is in good [shape] and is happy with this life."
The move to the new barn came with mixed results as he had his biggest crop of 44 foals in 2010 and 13 foals born in 2012. However, he slipped back into the doldrums in 2012, covering only two mares with no pregnancies.
While War Emblem has proven to be just as hard a case to figure out as a stallion as he was as a racehorse, his stats have shown the stallion has potential. All four of his first foals were winners with 20 of his 27 second-crop runners becoming winners, including seven group stakes winners. Overall, from 89 runners, 53 have won with eight winning group stakes.
It was determined that War Emblem's breeding problems come from being intimidated by other stallions but that hasn't changed his attitude toward humans.
"He is not crazy but a little strong-tempered," Hosoda said. "He
seems to trust the groom in charge, but does not follow other young staff. He may be too smart."
War Emblem may not be the most famous Kentucky Derby winner to win in recent years but he has found a way to plant himself in the history books as a Derby winner that no one will soon forget.
Click here for full article:
http://www.followhorseracing.com/en/the-latest/blogs/2013/04/16/catching-up-with-war-emblem/
Point of Entry took down 2011 Kentucky Derby Presented by Yum! Brands (gr. I) winner Animal Kingdom with a strong turn of foot Feb. 9 in the $300,000 Kitten's Joy Gulfstream Park Turf Handicap (gr. IT) at Gulfstream Park, adding a fourth grade I victory to his already impressive tally (VIDEO) .
Phipps Stable's 5-year-old homebred son of Dynaformer came off a runner-up finish to Little Mike in the Breeders' Cup Turf (gr. IT) to claim the impressive victory by 1 1/4 lengths in the 1 1/8-mile test, his first start of 2013 for Hall of Fame trainer Shug McGaughey.
An early mid-race move by new rider Joel Rosario may have cost Animal Kingdom the victory in what is planned to be his final start in the United States. With frontrunner Salto setting easy early fractions of :25.07 and :50.52 while 2-1 second choice Point of Entry stalked the pace three wide, Rosario sent 4-5 favorite Animal Kingdom rushing up the rail from fifth to reach even terms with Salto leaving the backside through three-quarters in 1:13.24. Many were surprised to see the 5-year-old
son of Leroidesanimaux make his move so quickly, including trainer Graham Motion.
"I think more than anything it caught him off guard for him to find himself in front so early," Motion remarked. "I think Animal Kingdom was surprised by that. The only thing I was concerned about going into this race was having another rider on him. Somebody who has ridden him and had more confidence on him might have been more patient with him. I think Joel was just anxious with the other riders going slowly and felt they should catch up, which confused the horse a little. Joel made a split-second decision and I'm not going to second guess him for it. if he won he would have looked like a hero."
Animal Kingdom's regular
rider, Hall of Fame jockey John
Velazquez, was committed to ride Point of Entry. He has piloted the big bay in 11 of 16 career starts, including victories in the Joe Hirsch Turf Classic Invitational (gr. IT) and Sword Dancer Invitational (gr. IT).
Velazquez had also been aboard Animal Kingdom four times after picking up the mount from then-injured rider Robby Albarado in the Kentucky Derby. In his runner-up finish in the Nov. 3 Breeders' Cup Mile (gr. IT), however, Animal Kingdom was ridden by California-based Rafael Bejarano as Velazquez piloted eventual Horse of the Year Wise Dan to victory.
"I know Animal Kingdom well," Velazquez remarked. "If (Rosario) would have waited behind me he probably would have beaten me from the quarter pole home. He made a
move so big that he changed his style to my horse's style, so it worked out to my advantage. I had my horse running so much by the time we got to the 3/16 pole my horse got his momentum going. It worked out for us."
Final time for 1 1/8 miles on the Gulfstream lawn was 1:47 flat, with Point of Entry closing well on the outside and edging clear under strong urging. Animal Kingdom dug in gamely after actually taking a brief lead heading for home, but the chestnut runner was overpowered in the final furlong by the eventual winner.
"It was quite a race," McGaughey said. "We had our tactics. I figured (Salto) would go to the lead and I was hoping we'd break good and be laying second to him without pressing too much and try to make Animal Kingdom commit a little early. It was kind of fun to watch, even though I was leaning a little bit trying to get him in front going around the turn. We're very pleased the way he came
Product this this it surrounded rather
cheap viagra
are lifetime is take this?
back and to win a grade I going a mile and an eighth is another feather in his cap."
Point of Entry paid $6.20, $2.60, and $2.10, Animal Kingdom returned $2.40 and $2.10, and Unbridled Command brought $2.10. Salto, Where's the Baby, and Film Making completed the order of finish.
Provided he exits the Gulfstream Park Turf Handicap in fine condition, Animal Kingdom will proceed to the next step in his 2013 campaign, a start in the March 30 Dubai World Cup (UAE-I) at Meydan. A potential start at Royal Ascot in England is also tenatively slated before his retirement to Arrowfield Stud in Australia.
"He was beaten by a very good horse under very awkward circumstances," Motion remarked. "I was a little concerned that maybe he got tired, but actually it looked like he galloped out with the winner."
Point of Entry is nominated to the $5 million Dubai Sheema Classic (UAE-I) going about 1 1/2 miles on the same night as the Dubai World Cup, but would have to be nominated for the latter race, a 1 1/4-mile test, for a $10,000 fee by Feb. 13.
"We'll see," McGaughey said on a possible trip to Dubai for the four-time grade I winner. "I'll get my folks together and get the people to talk to me, and we'll go from there."
Bred in Kentucky out of the Seeking the Gold mare Matlacha Pass, Point of Entry improved his career record to 8-3-1 from 16 starts, with earnings of $2,014,490.
Read more on BloodHorse.com: http://www.bloodhorse.com/horse-racing/articles/76139/point-of-entry-takes-down-animal-kingdom#ixzz2LNErPLlR